Now and again, new artists come along with a freshness, honesty and a uniqueness in their sound and songs that you just can't ignore. ​
Edinburgh Songwriter and Multi Instrumentalist Lewis McLaughlin is just that, and more. Lewis elaborates on his new EP "Paper In The Rain", his songs and processes.
Gear Used:
Guitars: McIlroy acoustic Tenor guitar, a Warren Ellis signature Eastwood electric Tenor guitar and an Ashbury acoustic Tenor guitar / Fishman acoustic guitar pickups
Strings: Elixir strings, Jim Dunlop plectrums,
Amps: Fender amps,
Pedals / Electronics: Various pedal companies BOSS, Electrohamonix, TC Electrinocs, Caline) and Orchid DI boxes.
Q: What first got you into music, how long have you been playing and why the guitar ?
"Both my parents are musicians, so I've always been surrounded by music. Tales of touring Canada and Europe from mum and dad inspired me from more or less the start. I started getting violin lessons when I was around six, guitar in the last five years. I also went to two different music schools, the City of Edinburgh Music School for 4 years, and then Plockton Music School for one. These two schools are where I gained most of my music knowledge and ability. Fiddle was my first instrument for years, until I got a guitar. Since then I've barely put the guitar down! I like being able to arrange/ accompany myself singing with the guitar. I also love writing and singing with a piano."
2) Who are your main influences – are they the same for songwriting and guitar or do you have different ones for both ?
"Artists such as John Martyn, Bob Dylan, Tom Petty and Bruce Springsteen were some of many influences on my songwriting from an early age. More recently I've been listening to a lot of Bon Iver, Rachel Sermanni and Villagers. My cousin played in the Scottish Indie band Frightened Rabbit and they were always quite a big inspiration to me as well. My guitar playing is probably inspired more by folk music, as that's the genre my parents and I play. I grew up on the Scottish folk music scene, and I still spend a lot of my time there"
Whilst we don't do reviews, beauty is in the eye of the beholder is our belief, however, Lewis's EP "Paper In The Rain" is quite superb, honest, emotional and def an album for the car, travelling around Scotland. First class musicianship too. I'll eat ma hat if Lewis isn't signed to a major label this year !!
Q: How do you approach writing a new song. What processes do you go through, melody first, or guitar/chord progression ideas come first, or is it a melody you have and then write for that, or does it all differ for each song ?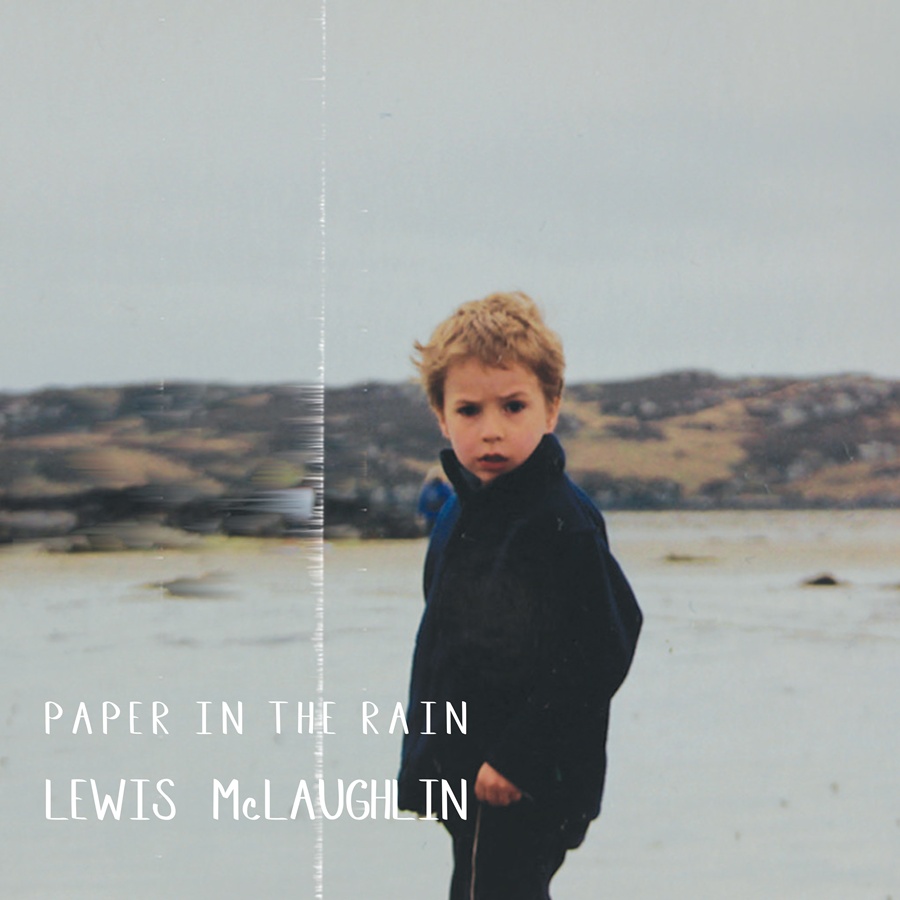 "I naturally start writing by coming up with chords and then putting lyrics and melody in afterwards. However, I've been trying to push myself to write in different ways recently. Coming up with just words, then putting melody and chords to them after is quite a nice way of doing it. I'm also working on collaborative writing, which I find is a totally different way of doing things."
Q: What are your main topic areas for songwriting, love, loss, life etc ?
"I guess love is the obvious one for "Pop" songs. When I first started I guess I was writing love songs about heartbreak etc. I've been working on getting away from that recently however (not that it's a bad thing to write love songs, quite the opposite). Storytelling is the big thing for me, so not necessarily writing about myself, but about other people too and trying to imagine their experiences and feelings. This type of songwriting is very much a "Folky" way of writing, so I guess that's where it comes from for me. There's a big culture of drinking in Scotland, as most of us are aware of. I try to make my songs specific to Scotland when I can. Dry humour is something I try to use when I can, because it's something Scotland, or Britain is known for. I was never poor, but I grew up with people who were and they had pretty hard starts to life. I'd like to think that some of them are doing well, but poverty can be a pretty brutal cycle and hard to get out of. I often try to put little hints of this into my songs. I think of my writing as not necessarily about just one thing, but lots of little things that together mean something more. I think it's not always about what you actually say in a story, rather what's behind what you say. This is, where I believe the magic happens (I could be wrong)."
Q: How do you get ideas for songs, do you listen to other songwriters/music artists ?
"Arrangement wise, I tend to look at other artists and take ideas I like from their music. In terms of words, I try to look back at past experiences (and current) and work from there! Also my surroundings are a big influence. Nature, City-scapes."
Q: How was your new EP recorded – in a studio, or Home Studio, who produced it and how did you finance it ?
"I work in a studio over in Edinburgh, it's called B&B Studios. The guy who owns it (Richard Werner) is an absolute legend, and a genius! It's been amazing working under and learning from him these last few years. He recorded, mixed and mastered the whole thing. I honestly don't think I'll ever be able to put music out without Richard being involved in the project. My dad, Frank produced the EP. He did an amazing job at getting me and the band working smoothly. Co produced by Richard and myself too.
In terms of finance, I saved up… a lot, and then a bit more, and then borrowed some money. That more or less covered it. It's a truth that all artists have to face, that even with proper budgeting and help from people around, albums are expensive things to create, especially as a solo artist. I think it's so worth putting as much as you can into it though. I also was extremely lucky to have so many amazingly talented colleagues and friends come along to play on the EP. Here they are, in no particular order – Alasdair Hambrey, Ewen White, Steven Stark, Donald Barker, Finlay Johnston, Robyn Smith, Alasdair MacKenzie, Euan McLaughlin and Callum Cronin."
Q: What's the plan with the EP and for 2020 – more gigs etc ?
"I've got a couple gigs in Glasgow and Edinburgh coming up, and I'm looking at a tour at the end of the year as well. I'm also hoping to get out to some Scottish festivals over Summer. I do quite a lot of other jobs as well as my solo project, so it's always a case of juggling things! Just keep doing what I do basically."
Q: What stumbling blocks have you had as a music artist / songwriter / composer ?
"I think for me the biggest thing is self confidence. I struggle with that quite a lot sometimes but I'm lucky to have lots of supportive people around me to keep me right! In recent times I've been getting better at building up my own confidence as an artist. Keeping up a momentum of gigs is important, but difficult at my stage. I've been getting more and more help from my band member, best friend and all round good guy Steven Stark. We're working together to get things moving! I'm really looking forward to working with him in years to come."
Q: What's planned next…will you release an Album or just release Singles or EP's ?
"I've been laying down some new tracks in my home studio recently. Don't have a solid plan yet, but there might be an album in there somewhere"
Q: Have you had writers block and if so how do you cope with it ? just leave it until it's ready to come out, or fight to write ?
"This is something I haven't had any big problems with yet. I think it's important to focus on other things, and take your mind away from writing regularly. At the end of the day, if you spend all of your time writing instead of doing, you'll have nothing to write about"
We wish Lewis every success in 2020….
​By Pete Carroll (Feb 2020)