​
When you hear your calling, listen to that wee voice in your heart and Just do it.
Elaine did just that and she's now on a remarkable musical journey, in perpetual motion, performing & recording. We ask one of the hardest working artists/songwriters in Scotland how she finds time for life, relaxation but more importantly, about her music and how she muses & creates her songs.
Q: How did you first become involved in music, how long have you been playing for and why the piano ?
Some of my earliest childhood memories include the heart-warming weekend smells of home-made mandarin cream sponge wafting from the kitchen along with the comforting aroma of coffee percolating on the stove, while I danced around the living room to Eva Cassidy, The Carpenters, Nina Simone, Aretha Franklin, John Denver, Dolly Parton, Kenny Rogers and the greats of Classical and Opera…with my yellow duster in hand, 'helping mum' get the house ready for family coming over. Music has always been a part of my life in one way or another. The piano was always a permanent fixture in our home and I started lessons at the age of 4. I'd play duets with my sister and we'd sing songs at the piano (she always had a better vocal range than me so I quickly assumed role of vocal 'harmoniser' which has stood me in good stead!). My mum never learned to read music, but she would sit and play this beautiful melody that she had made up and I would get lost in that. It was heartfelt and spellbinding. My dad has an amazing singing voice so music was in the genes.
Q: Who are your main influences – are they the same for songwriting and singing, or do you have different ones for both ?
I have a very wide and some would say eclectic musical taste and from that perspective a wide range of musical influences. If someone flicked through the playlists on my phone, they would question if they had all been selected by the same person! For me good music is good music irrespective of what box someone has placed it into. Rather than individual artists, I am more influenced by great melodies that intertwine with stories that hook me in, leaving me wanting to listen over…songs that speak to me, make me laugh and cry, remind me of something dear, carry a powerful message…inspire me…songs that make me FEEL something – that are real and fearlessly from the heart. When I write, I strive to achieve that in a song every time…which believe me is not always easy. In many ways my main influence when writing is the 'mood' I'm in, as that will dictate the key, the tempo, the feel of the song I'm working on at that time… or who I am writing for and what I want them to feel when they hear it. For example with 'Little Bird Little Sailor' I wanted it to be upbeat, fun and motivational so that influenced the tempo and style of the song.
For me singing works in the same way. I am comfortable with the vocal range, I need to get the best from my own voice, tone, emotion, so in many ways, I let the song itself dictate how it should be sung, depending on the end goal, the message, the feeling I want to portray with it. For example the track 'THIS' demands a darker vocal, with clear annunciation and a 'rounded' feel to it, whereas with the slower ballads like 'Only Love Can Break Your Heart' and 'Next Friday Night,' I would lean more towards a velvety tone and emotive vocal. I've never tried to emulate another person's voice (and would probably fail miserably if I did!), so instead I pull on how I felt when I heard a particular vocal and try and draw on what made me feel that way. The vocals of Karen Carpenter had me hooked from an early age – her tone, the feeling she put into her songs, the sadness, the emotion…if anything I'm influenced by that kind of vocal, one that moves your soul in some way.
So overall my influences are a melting pot of textures and is perhaps the reasons why I like to write in a variety of ways, creating my own blend of old and new with my own vocals and style.
Q: How do you approach writing a new song, what processes do you go through. Melody first, or chord progression/piano ideas come first, or does it all differ for each song ?
"I've only been writing seriously for a couple of years so my process is still young in that sense. So far, it varies given the type of song, how I'm feeling / my mood that day, what time of the day I'm writing, the reason for writing the song. If I start with the lyrics, I like to almost have a higher purpose for writing – I will always ask myself why am I writing this? Who I am writing for…who am I speaking to right now in this moment? What message do I want to share with them? What's inside that needs to come out right now? Do I want to motivate, comfort, inspire, share a story? How do I want to feel at the end of this song…? I find it helps if I start from that perspective and then see what melody, phrase, message appears.
Other times I sit at the piano and just leave my fingers to find the keys they want to – it can be surreal sometimes, as I don't always feel 'in charge' of them in that moment. I have been known to record half an hour of improvisation, then listen back and see what catches me and pull those bits out. Then, depending on the feel of the melody, I start making up the lyrics / story that I think would fit them, then it's back to how I write lyrically. Sometimes all I get out of the melodic improvisation is a riff for a song, other times I get the full song…it varies.
The main thing for me is that I don't see myself as a writer…more a re-writer, as I will go back to a song and re-write it, until I'm happy it's the best version of that song – it's no longer about me…its about the song, like at some point it takes on its own life and my job is to tell it's story to the very best of my ability. I know there are many writers out there that within a couple of hours can write / co-write a song (some pretty good ones too!) then move on to the next. I'm not sure if I will ever get to that point – who knows…for now I'm happy with my current process and will look to hone in on making that the best I can right now.

Editor: The articulation in Elaine's answers to our questions and the reviews she's had for her debut album, is a reflection on her lyrical prowess, as she paints scenes in our minds eye (perhaps an indication that a novelist doth lurk) and is also a testament to her character and work ethic as a songwriter and performing artist. Elaine has gripped the reigns of her musical destiny firmly and steered it her own way, even whilst facing adversity, the way she wants to go and put's her heart and soul into her work. Dedicated to her cause and if you check her social media, you'll observe, she never stops ! For all those aspiring music artists/songwriters out there, look no further to be inspired and infused with a "go for it" spirit and "seize the day" mentality, coupled with putting in the hard work. Elaine talks about her music and journey on a TEDx TALK (see video below).
Q: What are your main topic areas for songwriting, love, loss, life etc ?
"So far the topics I have written about are based on my own life and the people close to me – I have written about breaking up with Fear, as that was something that personally held me back for years, I've written songs like 'Little Bird Little Sailor' to leave a permanent message to inspire my children as they grow… 'In Songs We Live On', I wrote to thank my mum for showing me how to be a good parent…'Alone Here With Me' was my own personal therapy song as part of my recovery from a car crash and was pure release of how I was feeling at the time…unconditional love, fear, comfort, love, loss, despair, hope…for me they are all part of everyday life and I believe that's why they connect with so many people."
Q: How do you get ideas for songs, do you listen to other songwriters/music artists ?
"Ideas are everywhere. I tend to be drawn to real daily life mostly, but ideas can come from listening to a conversation in a queue at the supermarket, from the headline of a newspaper, from a talk with your friend, from a book / TV programme…an interview."
Q: Have you had writers block and if so how do you cope with it – just leave it until it's ready to come out, or "fight to write" ?
"I try to write about what I'm feeling right there and then, what I'm looking at, the view from the window…even if what comes out will never see the light of day at least I'll have produced something"
Q: How was your new album recorded – in a Recording Studio, or Home Studio, who produced it and how did you finance it ?
"It was recorded by the Award Winning Engineer Paul Savage at his Chem19 Studios in Blantyre, Scotland. The album was masterfully produced by the marvelous Findlay Napier. It was partially funded by Creative Scotland and the rest my husband and I funded from hard earned savings. I am so grateful and could not be prouder of the album we have created with these little musical chunks of my soul"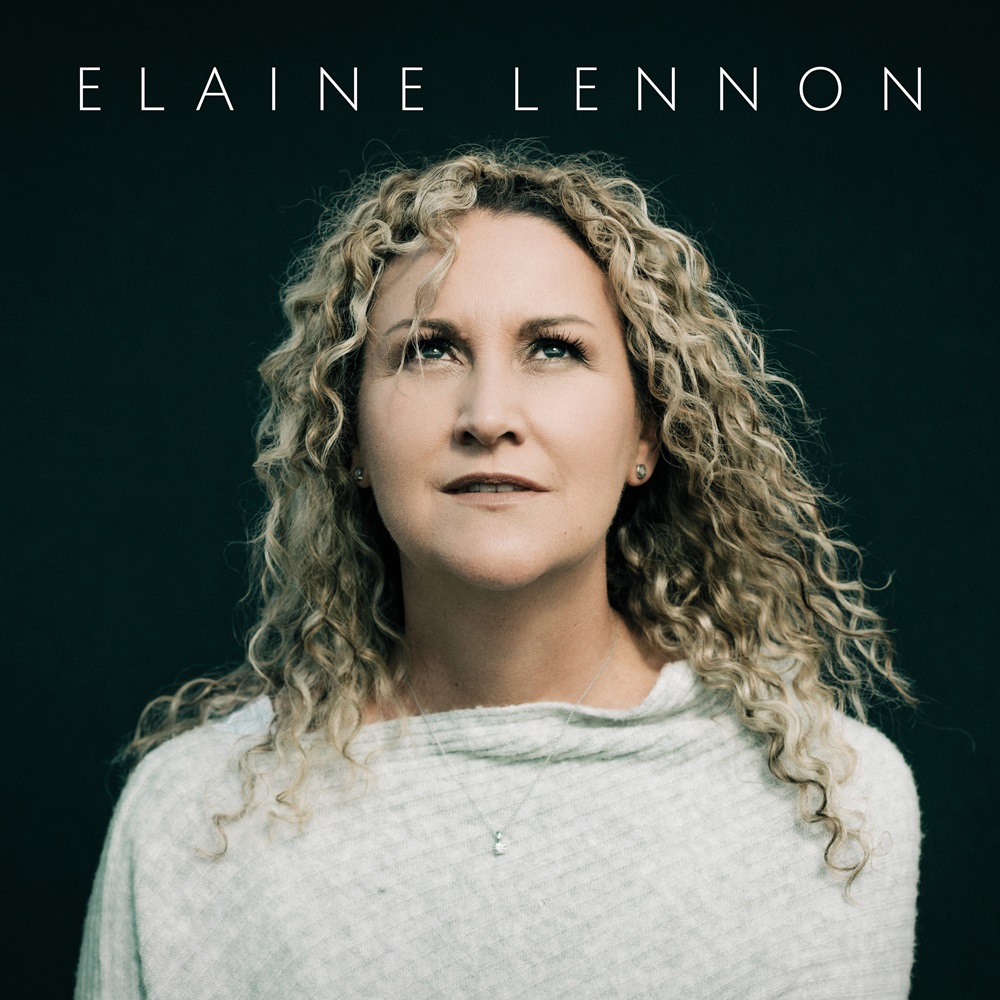 Elaine's debut album "Elaine Lennon"
Prior to her new career in music, Elaine was in HR, which no doubt helped her in the Tedx Talk, as she spoke about her music and journey – She's a real inspiration to those who aspire to follow their heart and embrace their true purpose in this life.
Q: Did you have any ordeals or issues when writing or recording the album ?
"The writing part was the easiest, as these songs were essentially written as 'notes to self', or musical letters to family and friends and were never originally meant to be heard by others. Then at some point, I realised I couldn't tell my kids to go out and work hard, to follow their own dreams if I wasn't leading by examples, so I took that leap of faith and with shaking hands 'put myself out there'. Having to share my home-made demos with others for them to judge and put into boxes was not easy for me at all. I found that hard, yet I still did it as at that point I had a desire to share these songs with others in the hope that they might connect with a wider audience in some way.
Applying to Creative Scotland for partial funding was hard work, believe me, but I would advise anyone embarking on a similar project to go through the application process (even if they don't win funding in the end), as it makes you think of all the elements that are required to self-release from the overall concept of the album, through the team involved, the marketing and distribution parts, right up to the costing and sourcing of barcodes for your CDs! My application was knocked back the first time, too which showed that it really did matter enough to me to find out where my gaps were, address them, and reapply to achieve second time success.
I stepped outside my comfort zone again and approached Findlay Napier who later produced the album. I am so blessed to have had someone like Findlay on the team – we clicked personality wise and musically right away – I felt completely at ease with him and really enjoyed the pre-production stage of the process, sifting through my songs and deciding which ones would make the final cut, what keys, tempos, arrangements would work best. There was never a cross word or a jarring of creative heads, as I think we were just both very much on the same wavelength and we wanted to present these songs in the best way we could.
Meeting Paul Savage for the first time at his Chem19 Studios in Blantyre was also daunting as I was very aware of my lack of general experience in the music business and the fact that the only recording I had ever previously done was in my own back room. He and Findlay quickly put me at ease though with their complete professionalism and wealth of experience making up for everything I lacked at that point.
We had essentially 14 days to track, record, mix and master 11 songs. It took me a morning just to get used to the amazing piano in the Studio and if I'm honest, I was a little down on myself, as I thought you had to be note perfect and record the entire track flawlessly first time (isn't that what you see in the movies?) …but the nerves and time constraints got to me a little. So Paul and Fin sat me down before lunch and told me very rarely does an artist come into this kind of environment for the very first time and get things perfect right away. I just didn't know that – I thought I had to knock it out the park first time (no pressure there eh!?). So once I realised we could take more than one take and mix the best parts if needed, I found my wings and just went for it….and ironically started playing things through with much more ease (isn't it amazing what removing those negative self concepts can have on our performances?!).
From that morning on, I just gave it my best shot, stayed in each moment and just enjoyed the creative process. It was tiring and emotionally draining sometimes, as you have to stay continuously focused, but I started feeling really at home in the studio and loved it. It helped having Fin and Paul there, as well as my husband and kids dropping in when they could too.
We also had the stress of holding off for permission from publisher Sony, to put my interpretation of Hank Cochrane's 'She's Got You' on the album, as their permission came through the day before we were due to go into Mastering (a few sleepless nights on that one!!)."
In the face of real adversity, some people give up and sink, some people cope (just) and some take heed the advice from their brave little boy, who told his mummy not to stop because he had a lump on his back (Elaine's son was diagnosed with a tumour), and drive themselves on to finish what they started. Elaine's story is remarkable. One of self belief, real grit and determination, adversity yet with a passion to bring the music in her head and heart to life.
Elaine continues….."Throughout the entire experience I felt like I was starting a new job every day. I set up my own label 'Little Sailor Records', my own website, negotiated with CD Manufacturers and Distributors, Promoters etc…I became a small business entrepreneur, as most of us self-releasing musicians essentially are. The learning curve is a steep one, and in many ways I'm still very much at the bottom of it.
The hardest part of the recording process for me, however, came on a personal level in the form of my own physical limitations (I ripped a calf muscle and was on crutches), juggling everyday family life with two little kids, but most of all, right in the midst of the process my 5 year-old was diagnosed with a tumour growing on his back and had to have emergency surgery to remove it. That last part almost made me give up on the project as family always comes first, but it was my adorable, bright, kind, funny, considerate little guy who said that I 'wasn't allowed' to stop just because of his 'lump' and that he wanted to hear the songs 'all done' so I 'better get my work done fast'. Thankfully he is completely fine now (thanks to the wonderful NHS) and I am glad that we were able to work around being there for him and juggling the project accordingly, as his story and his strength are also now a part of the ultimate power of these songs.
It makes it even better to read the wonderful reviews the album has received including from FATEA Magazine who said it was 'One of the best debut albums I have heard in years".
Q: Have you had any interest from Labels or Publishers ?
"I have had one of my songs 'Only Love Can Break Your Heart' selected by a large Publisher in Music Row in Nashville, but I actually didn't approach any labels to release through them. I set up my own label 'Little Sailor Records' instead. Perhaps if I do a second album, I may look at approaching larger labels, but for now this was the path for me. My focus was on getting the songs out there sooner rather than later and I'm really proud of what we achieved."
Q: What's the plan with the album and for 2020 – more gigs etc Tours ?
"My goals this year are to share my songs with live audiences throughout Scotland and I am currently working with bookers and venues to get dates in the diary for this. I'd also like to venture into England and Ireland and am following up on a few opportunities there too. It's a highly competitive market out there and securing slots for an emerging artist like myself isn't always easy but I will keep at it 🙂
I have some live events already secured for this quarter following the sold out Album Launch at Celtic Connections including a double headline acoustic set with David Latto (March – 4th in Glasgow, 8th in Dumfries, 12th in Kirkcaldy). You can keep up to date with tour dates on my website www.elainelennon.com.
I am also doing a RADIO Tour so listen out for me on BBC or local radio stations near you."
Q: What stumbling blocks have you had as a music artist or songwriter/composer ?
"I" was my greatest stumbling block. That's the reason I wrote the song on the album called 'Fear (Breakup song)'.
Also, everything costs money (to record, to promote, to travel to and from gigs, to pay for hotels if you are away from home etc) and it takes a while before you can actually earn anything from music itself (PRS etc). As an artist, you get a minute return from streaming platforms and with so many promoters / venues / festivals expecting emerging artists to performer for 'the exposure' (i.e. either for free or for £25-£50 for a half hour set, having to pay for your own travel and accommodation expenses etc) it can really be a show-stopper for many artists, so realising your worth, negotiating appropriately and carving out ways to make money to sustain a musical career can be challenging."
Q: What's planned next musically…will you release another album or just release singles or EP's ?
"I'm not sure at this point – I'm open to see what comes next on the journey."
Editors Note – As mentioned earlier, Elaine's lyrical prowess and level of articulation in this interview may indeed be sign that she may become a Novelist/Author ? We'll find out in due course, down the line no doubt. Many songwriters do venture into writing novels. Songwriting is a very tight writing format and has to sit within a musical structure and framework., which after some time, writers can find a little too inhibiting and write in other formats for their craft to grow and develop.
Q: When you write, do you go away somewhere or do you have a work-space at home ?
"I don't have one single place to write…sometimes it's while I'm taking my kids to after school classes or walking to school, others is when the kids are in bed and I have the house to myself. I find singing the boys to sleep at night, I get a lot of writing done as they will ask me to sing particular songs…'the one that sounds like this mum….?' (so I know I have the melody right there but not the lyric as he can't remember the words) or 'The one that's all about….?" (so I know I have the message / lyric right but they can't remember the melody so I need a stronger hook etc).
…It's a moving living thing this songwriting! 🙂 …"
Q: Do you think there's enough support out there for Songwriters/Composers in Scotland…what else could be done to help them ?
"There are groups for Songwriters out there, like the one that I will be helping Martha Healy and Nayland Smith co-ordinate this year called Nashville Songwriters Association International – we meet once a month in Glasgow with like minded songwriters and look at all elements of the writing process, do writing exercises, have guest speakers from the industry come talk to us etc. It's a great community to be a part of and I'm very grateful to them for setting it up.
There are other similar groups that I'm aware of and there are things like the Glasgow Songwriting Festival which Findlay Napier runs that provide amazing opportunities to develop the craft.
Funding bodies like PRS and Creative Scotland are superb supporters of the arts, but unfortunately they have minimal funds available for an extremely high level of competition, so definitely more funding opportunities for musical projects would be great. Magazines like yours and forums to support musicians, where they can share ideas etc are also fantastic resources.
Most of all, we as artists can be the best source of help and support for each other, chipping away at those walls of 'competitiveness' and realising that collaboration and supporting each other can be a really powerful thing and a way to achieve wider artistic successes overall."
Couldn't agree more with Elaine. No one is better than anyone, we're all at different locations along the musical journey, all with different experiences, different approaches, with no one set way to create songs/music, the processes differ for each of us, but the reason why we write is because we love to do it and to share our story and thoughts with other humans. That's why music is crucial to humanity. It binds us all. The stories of our lives.​
Recording Credits & Production Info:
​Elaine recorded using the beautiful Yamaha Piano in Chem19 Studios.
Findlay used acoustic and high strung guitar on the album, while Iain Sloan used Pedal Steel and electric guitar. Patsy Reid played Violin, Viola and Cello and Euan Burton played Bass.
Elaine adds, "Paul Savage, Findlay Napier and I all created 'human percussion' (stomping, clapping, thigh slapping) and dry guitar strumming to create the rhythm you hear in 'Little Bird Little Sailor' as we didn't have budget for a drums. Paul, who is also the drummer in The Delgados, took our raw human percussion and turned it, with some master mixing magic, into the rhythm section you hear on the final track – So cool
​Jamie Savage did some superb additional engineering on "THIS", By "Your Side" and "She's Got You" and Mastered the Album."
​

​​
LINKS:
Facebook and Instagram: @ElaineLennonMusic
Twitter: @ElaineLennonMu1
Wishing Elaine and team every success.
By Pete Carroll (March 2020)